Charter Fishing Montauk NY

Montauk is located at the far eastern end of Long Island. It is about 125 miles east of New York City. Montauk is New York State's largest commercial fishing port. This region is known as one of the sport fishing capitals of the world. It is home to over 25 current world records. The waters of Long Island Sound flow into the Atlantic Ocean at Montauk and bring in vast amounts of bait and nutrients. This attracts great schools of Striped Bass, Bluefish and Fluke. Since Montauk is all ready so far out in the ocean it makes it the closest port to the canyons and the gulfstream. This in turn creates a fantastic fishing opportunity for off shore trips for tuna, shark, and marlin. If the water is too rough for off shore fishing the in shore fishing is always great. During an in shore fishing trip anglers may encounter the following species Striped Bass, Bluefish, Fluke, Porgies, Sea Bass, and Flounder.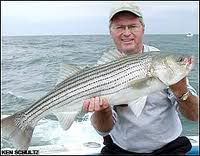 Fish Limits
Striped Bass
(28″ min.) 2 per day
Bluefish
(No min.) 15 per man
Fluke
(21″ min.) 2 per man
Flounder (12″ min.) 2 per man
Blackfish (14″ min.) 4 per man
Weakfish (16″ min.) 6 per day
Bluefin Tuna (27″ to 70″) 1 per boat
Yellowfin Tuna (Over 27″) 3 per man
Cod (22″ min. ) No
Limit
Pollack (19″ min.) No
Limit
Sea Bass (12.5″ min.) 25 per man
Porgy (10.5″ min.) 10 per man

When is the best time to go?
Sharks June -October
Tuna Late August – September
Marlin July – September
Dolphin August – September
Cod Fish March – September
Fluke May – September
Flounder End April – June
Striped Bass May – December
Blue Fish June – October
Black Fish October – November
Video Montauk NY Fishing Striped Bass "The Fall Run"